Dining Out At Home 2
cookbook has a wide variety of appetizers from many American Restaurants such as
Olive Garden
,
Logan's Roadhouse
,
Spaghetti Warehouse
and even
Red Lobster
,just to name a few.This chapter consists of recipes for everyone to enjoy.There are delightful comforting dishes and fancy international appetizers to serve at your next dinner party.
For me, it was quite a challenge to pick what recipe to test out, for my reader's like you.So I went with appetizers that have simple ingredients and will fit well with almost any main dished served. The first recipe I tested out was a comfort dish from
Logan's Roadhouse
Restaurant called Loaded Potato skin's.Then for a simple fancier appetizer I made Classic Bruschetta based from
The Spaghetti Warehouse
.These two restaurants are only American chain's.So as a Canadian there isn't much to compare;however each of these recipes caught my eye almost instantly.I feel everyone will have fun making these appetizers, since I found them quite simple to put together.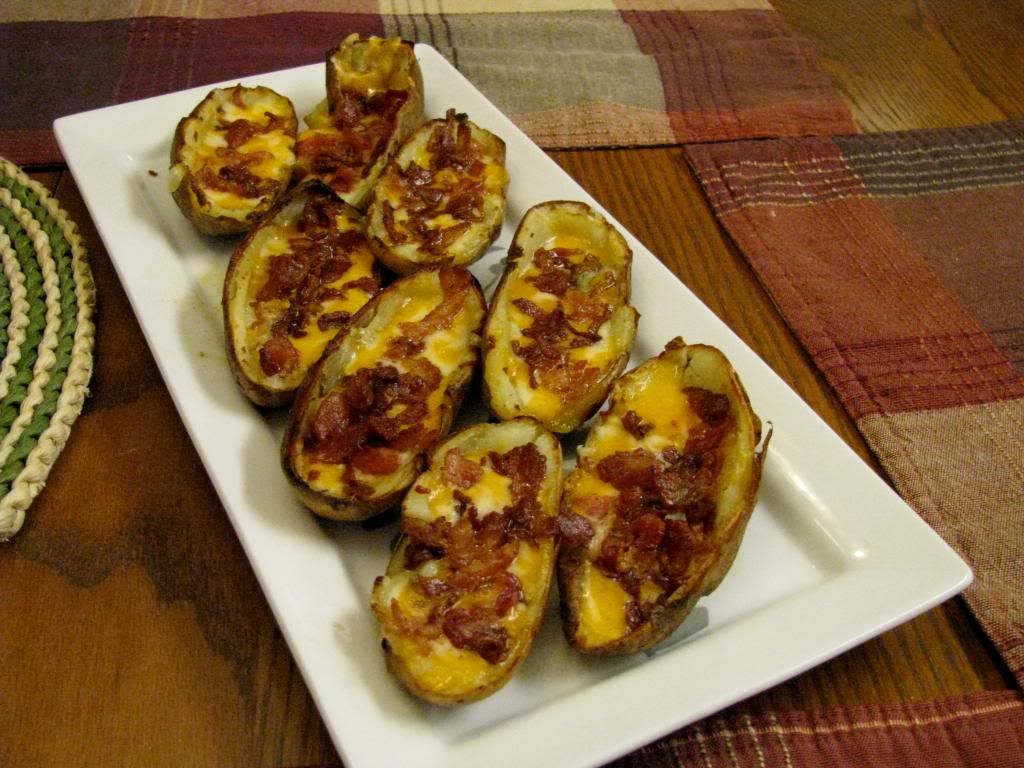 Stephanie Manley's
loaded potato skins inspired by
Logan Roadhouse Restaurant
is an easy to follow recipe with direct steps,along with leaving room for adaptations.I love that she gives the reader's tips and uses inexpensive ingredients.Now the recipe is easy for any level home cook;however its all about timing for these potato skins.This is because it takes up to an hour to bake these potato along with baking a second time and lastly to melt the topping together.So it takes three times to bake these appetizers,then including the prep work and frying the bacon.This can take up some time you might not have to get your appetizers done and serve.
So I recommend to get some extra help in the kitchen and for a cheat you can microwave the potatoes for about a minute to quicken the process.Also, to mention that it seems that the potato flesh isn't used for anything in this specific recipe,however its recommend in the recipe not to waste and mentioned ways to use the leftover.I love that Stephanie is on the same page as me to never throw away perfectly good food.So I followed her tip's and use the leftover's in other recipes.
These loaded potato skins have layers of flavor and color.There is tons of room to put your own creativity into the recipe by adding more toppings or removing some.Just think how tasty these potato skins would be with richer cheese such as cream cheese or change in meat. Ohhh! the endless ideas and desires for such a versatile baked potatoes.I am so surprised I have never even subjected myself to potato skins and I'm so happy I finally experienced it for myself. Taking a bite with a dabble of sour cream was an instant gratification with its layer of flavors.It has a great combination of flavors such as savory,salty and rich along with a soft and creamy texture.The sour cream helps enhance flavor and lightens up the richness. It's a delicious appetizer and great with any main dish.
Now for a fancier appetizer I made classic bruschetta inspired by
The Spaghetti Warehouse
.I found Stephanie's recipe to be as simple as the potato skins;however a new learning experience for me when making a first timer balsamic vinegar reduction.The reduction is a sweet and sour vinegar created by slowly simmering the vinegar to half and use for a dressing.This reduction ties everything together in this layered bruschetta.It also creates a large amount of vinegar so its best that who ever make this recipe that you better love this dressing.Its quite versatile though because it has a 60 shelf life and can be used for salads or marinades.
Now the assembling and prep is the most work done in this recipe, including mincing,slicing and of course layering ingredients.When they are all done it looks like a piece of artwork and is quite impressive.When I took a bite of these homemade bruschetta I was instantly addicted to the crunch and fresh ingredients.The Roma tomatoes were sweet and ripe along with a light mozzarella.It was also sprinkled with fresh minced basil and a drizzle of sweet balsamic dressing.This appetizer is refreshing,sweet and savory.I love this flavor combination and I'm now addicted to this Classic Bruschetta.
Overall, these two recipes for potato skins and classic bruschetta are great for most main dishes and I recommend you try out these for your next dinner party.I give both these appetizers five out of five for simplicity in directions and ingredients, along with excellent flavor.So be sure to stay tune for the next chapter of
Dining Out At Home Two Cookbook
.Introducing restaurant inspired soups
3 medium russet potatoes(about 4 inches long)
6 ounces of bacon,6-8 slices,diced into small pieces
1/2 shredded cheddar cheese
1/2 cup Monterey jack cheese
I preheated the oven to 400F. Then I washed and pricked each potato with a fork.Then baked them for about 1 hour in the oven.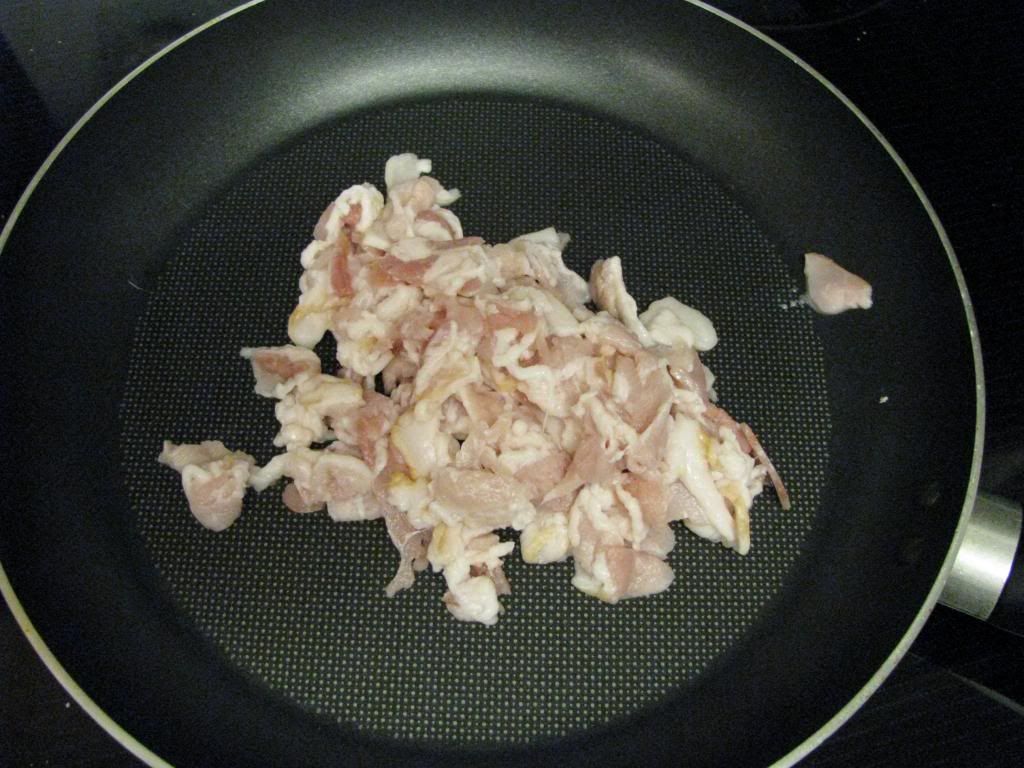 When the potatoes were baking. I diced up 8 strips of raw bacon and fried the meat in a skillet under low-medium heat,until crispy.
Then I placed the cooked bacon on a small towel to let drain,setting it aside to cool.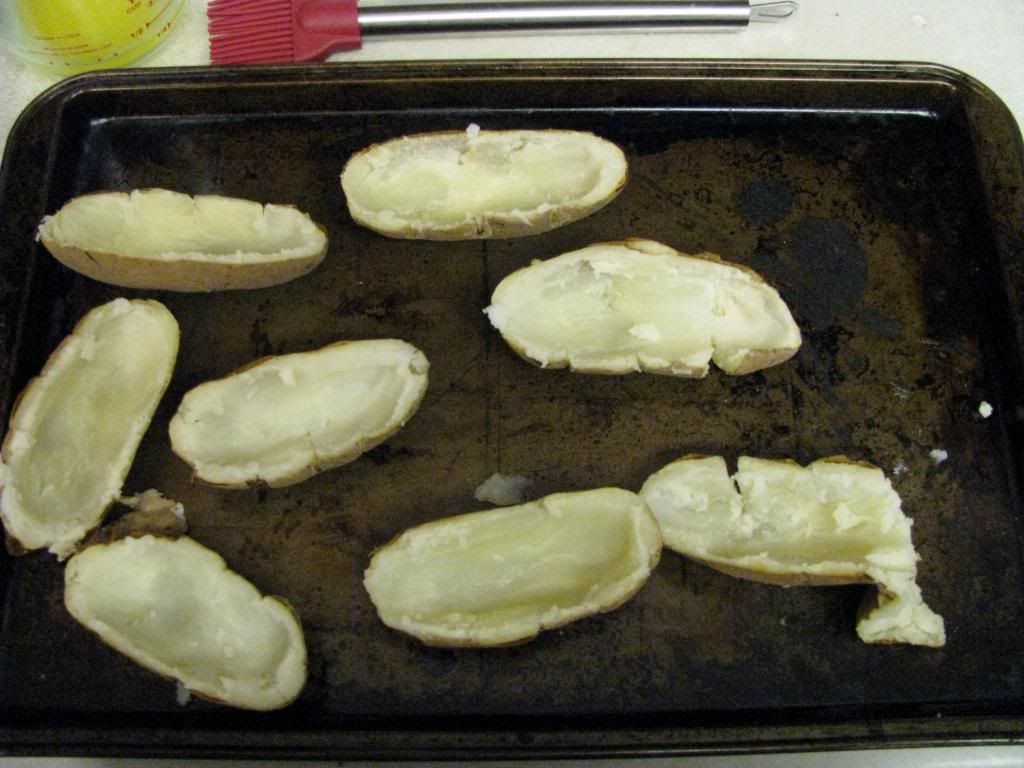 Once the baked potatoes were fully cooked,I let them cool down completely and then cut them in half lengthwise and scooped out the center,leaving some flesh behind,about 1/4 inch thickness.I also saved the flesh and made hash browns and mash potatoes with it.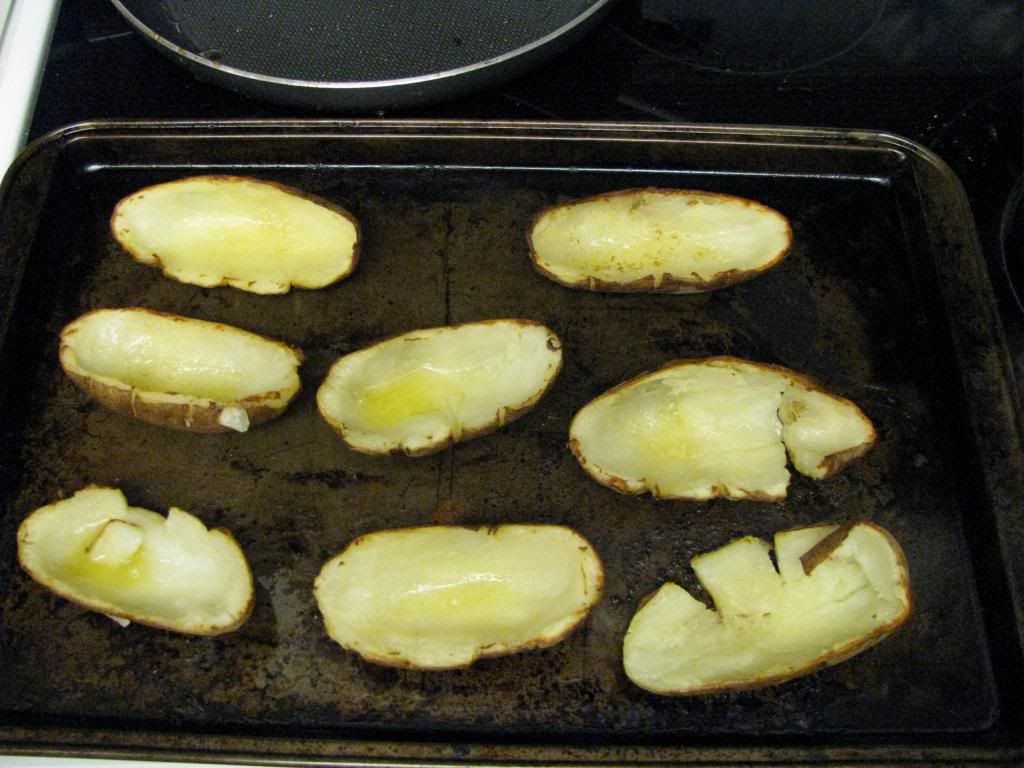 I then turned on the broiler on the oven and also melted the butter in the microwave.With the butter I proceeded to brush the potato skin flesh and then after placed the skins on a baking sheet to broil for about 8-10 minutes in the oven.Will be done when edges become golden brown.
In a bowl,I proceeded to toss the grated cheeses together.After broiling,I placed about 1 tbsp of cheese onto each potato half and sprinkled about 1 tsp of bacon.Lastly, I baked the potatoes skins under the broiler, until the cheese was bubbly,about 3-4 minutes.Then to serve I arranged it on an appetizer plate and had sour cream along side for dipping.
Cheat: I added an extra russet potato to the recipe, to make it an even serving for four people!
Also, a good tip is to be watchful how long you bake your potato skins each time and add as much filling as you desire.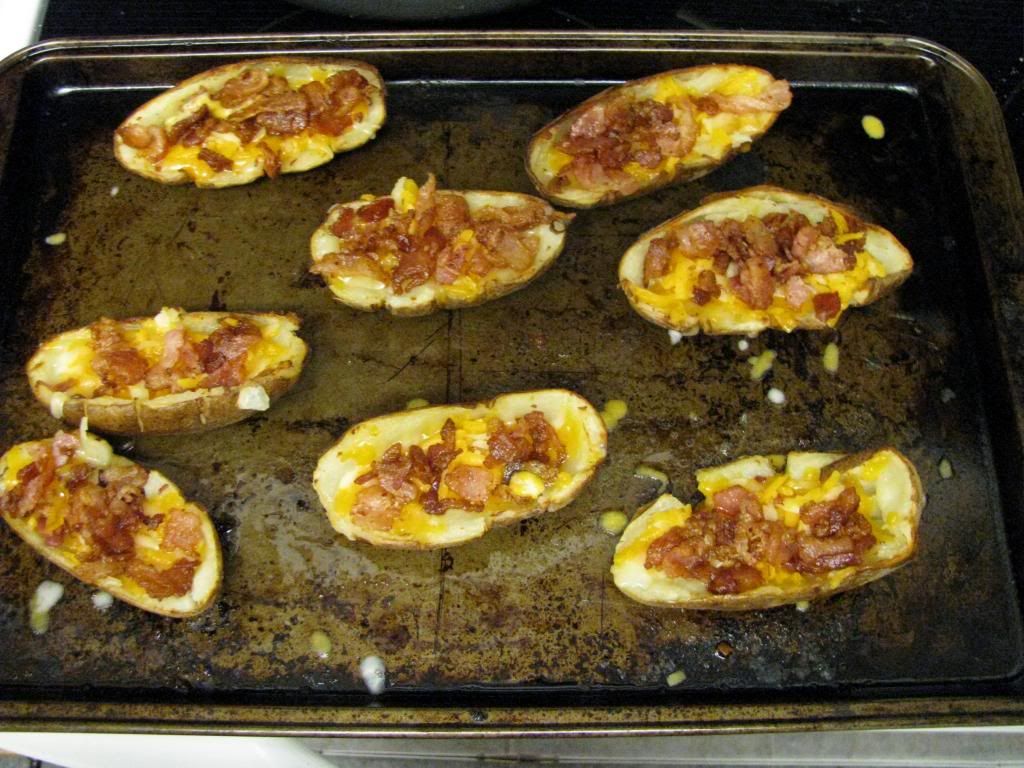 (A Recreation of Spaghetti Warehouse)
1 small bunch fresh basil
1 pound fresh mozzarella cheese,thinlu sliced
2 tbsp balsamic vinegar reduction( recipe below)
I poured the vinegar in a medium size metal saucepan and let the liquid simmer over low,until it reduce to about half.It took me more then 30 minutes to reduce it to exactly 1 cup.
I measured the liquid a couple times to see the progress.Once,I got it fully cooled, it was ready for use right away.Once I was done using the reduction I placed in an airtight container in the refrigerator.(Tip: It has a shelf life of about 60 days and anything after that it will begin to crystallize and will lose its velvety texture, it can be stored at room temp or in a refrigerator)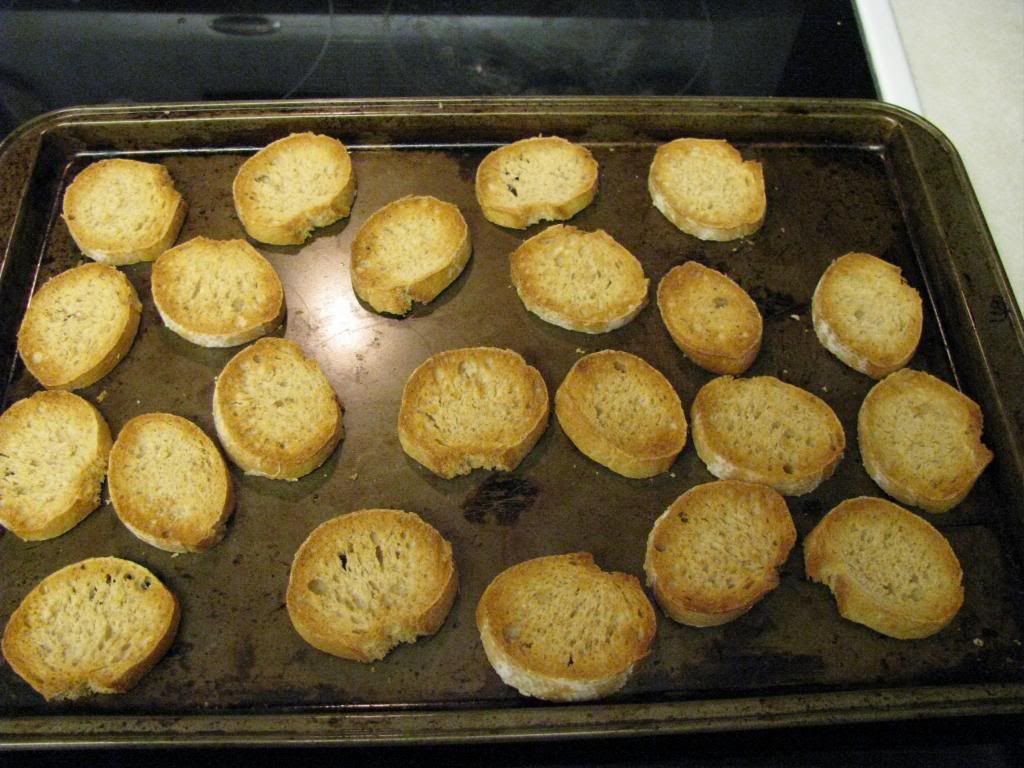 I cut the baguette into 3/8 inches slices.Then I turn the oven onto broiler,then proceeded to place the baguette slices on a baking sheet and toasted the bread until golden brown.Then I removed the baking sheet from the oven and flipped the slices over to toast the other sides evenly.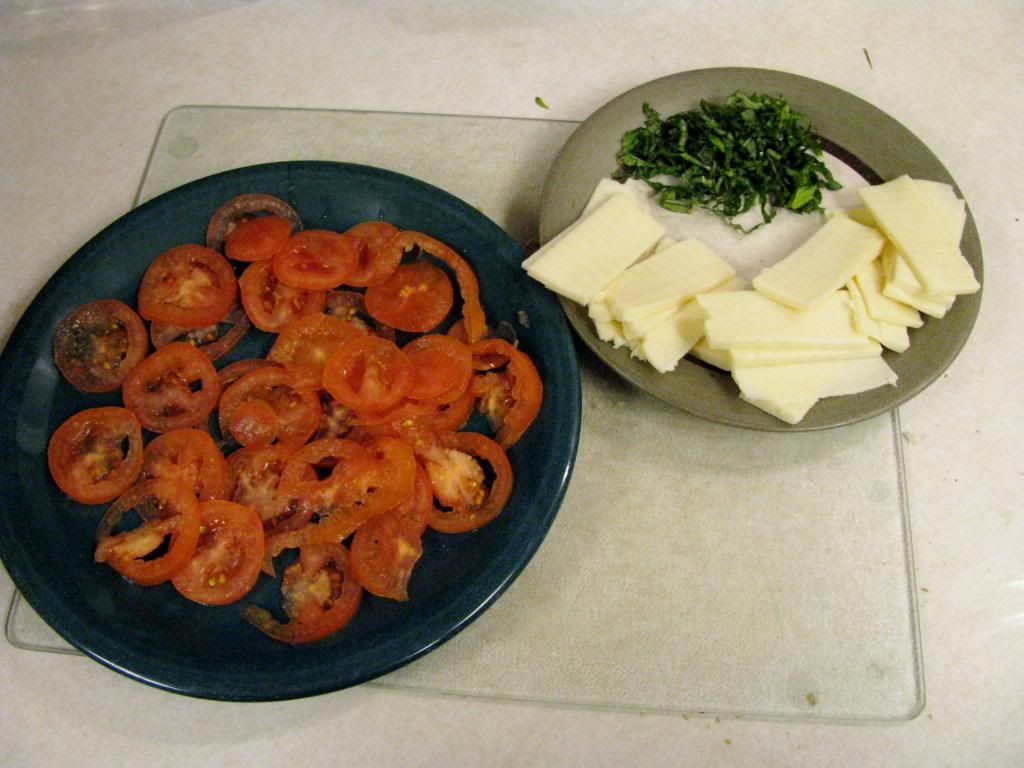 With the basil I sliced into tiny strips by rolling each leave and cutting very thin.Then sliced the tomatoes thinly and mozzarella.